Finally the extreme cold across Skardu- Baltistan is over! The winter had been so cold and broke all records of around 30 years. However, nothing is permanent, each and every thing passes within a time and framework. Baltistan is ready to welcome spring season soon and you must start your plan now for spring blossom trip to Baltistan before it's too late. We all know there is nothing shortage of life than blossom and Baltistan has only 3 to 4 weeks of Spring Blossom. The spring season starts from 21st March to 15th May and the best time for blossom trip is between 5th to 25th April.
Skardu town is the capital of Baltistan Division in Gilgit-Baltistan. Skardu located in between the Karakorum and Himalaya range. It's a uniqueness of the region that offers the opportunity to see and view the Peaks, Rivers, Lake, Desert, Rocks, and Greenery at a single glance as well as adding the blossom in the spring season present the area so romantic!
Baltistan region has 4 Districts including Skardu, Shigar, Ghanche and Kharmang. These Districts furthers divided in small unit and Tehsil as well as diverse and remote valleys. Each and every valley offers unique beauty of Spring Blossom. Baltistan is famous for apricot trees and during the spring these trees bloom which provides a mesmerizing view and photography scene. White snow in upper mountains and pasture while blossom on apricot trees in the down valleys, God decorates Baltistan in a way where you can witness or capture snows covered mountains, blossom as well as the fresh greenery in new cultivated land and fields in a single view!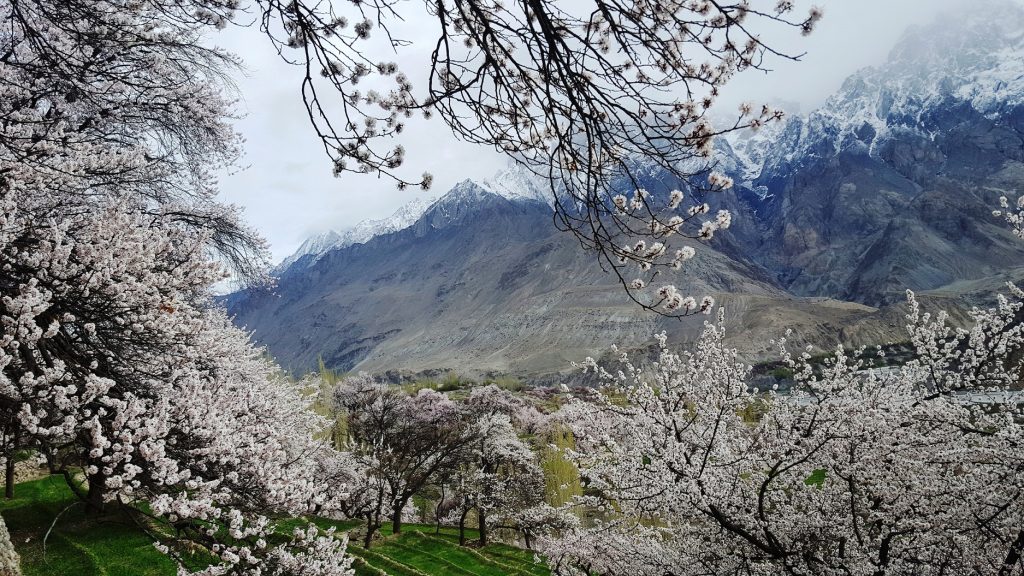 There are two options to get to Skardu.
Pakistan International Airline; PIA operates regular Boeing flights between Islamabad and Skardu, and in peak season it operates twice or extra flights. You can check out the schedule at the official website of PIA.
By Road through KKH- Rawalpindi- Hazara Motorway- abbottabad- Mehnsera; then Kaghan Naran Babuser Route or Batagram- Bisham KKH route and get into Chilas- from Chilas to Jugolot and Roundo route or Astore- Deosai and get into Skardu. There are many public transport companies provide daily non-stop transport services from Rawalpindi to Skardu and same route back. They have all kind of vehicles including Buses, Coasters and even Cars. You can also hire any type of private vehicle from Rawalpindi/ Islamabad for your Skardu trip. We recommend a night stay at Chilas or Naran during your private traveling to Skardu.
Once you get into Skardu, there must be minimum 4 days in your plan so you can explore at least all major destinations of 4 Districts of the region. Keeping in view of the blossom trip we would like to recommend you to visit the following destinations or valleys accordingly.
Visit Shangri-La and Upper Kachura Lake, and Sadpara Lake- hike to Kharphocho Fort. There is great view of Skardu town from the fort
Visit Shigar Valley- View the Valley from the View Point- Visit Shigar Fort if you are interested in culture and archeology, otherwise it should be ok just to view the valley from the view point.
Visit Kharmang valley, go up to Manthokha waterfall
Visit Khaplu valley. Khaplu valley must be included for Blossom. The traveling to Khaplu valley offers you much beauty of sightseeing; flowing Shoyok River in between while diverse valleys and villages on the both sides of the River! Khaplu town itself much beautiful. If you are good with hiking then you must do a hike to Thoqsikahr place from where the view is amazing. Its almost one and half hour hike from Gharbuchung village; that is just a 3 minutes drive up from Khaplu Fort. Travel to Hanjur and catch a great view if you prefer not hiking to Thoqsikhar.
Last travel to Masherbrum View point and also to the last point of Machulo village in the Hushe valley. The landscape and views are so beautiful of these destinations. There is nothing broad and vast landscape and view across Gilgit-Baltistan than of Masherbrum view point and Machulo.
In additions, if you are looking for itinerary sketch please open the family trips and tours menu at the website where you can have various itineraries options. Also feel free to write us if you want more customized itinerary. We are ready to help you not matter you purchase our packages, if purchase we assure you a life time experience .